9 Best WordPress Appointment Booking and Scheduling Plugins 2023
What is appointment booking and scheduling software?
Appointment booking and scheduling plugins are tools that allow professionals and businesses to better manage the scheduling of appointments and bookings. This type of software is also known as Appointment Booking Software and Online Scheduling Software.
Nowadays, lots of people have the benefit of online solutions that provide booking services. It's a quick and convenient way to manage an appointment or booking process with minimum efforts and maximum result. WordPress scheduling plugin or appointment booking plugin saves time and introduces a simple way to manage your reservation or booking from anywhere and any device you have.
Is your business related to reservation? And you want to bring it online? So no problem, this is a very easy task, but if you have a WordPress website, then it will be icing on the cake. Because we are going to introduce you about such best appointment booking plugin for wordpress that will meet every requirement of your reservation, which are very easy to install and you will not need any coding knowledge.
With the help of any WordPress Scheduling Plugins from this collection, you will have a great and user-friendly booking system on your website.
---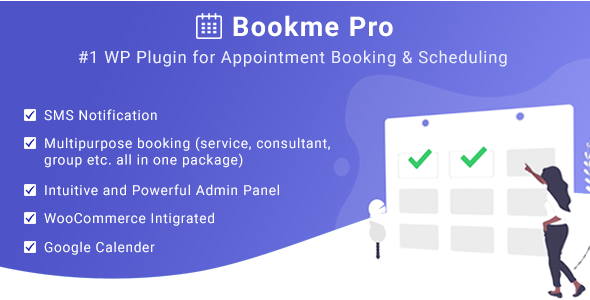 Bookme Pro is a clean, responsive, multipurpose , user-friendly, fully customizable, powerful and easy to use WordPress appointment booking and scheduling plugin for accepting online appointments bookings & scheduling. It includes Google calendar, Paypal, Stripe, Mollie, 2Checkout, Authorize.Net, Payson, Email & SMS notifications, WooCommerce payment system, Cart booking, Customizable (form, Appointment calendar and appearance settings), & many more features that allow your visitors to check availability and make appointments for the specific day(s) and time slots.
Are you trying to offer reservation through your website or online! no matter what the business is, bookme pro WordPress appointment scheduling plugin supports a wide range of services provided by business, individuals (like institute, clinic, spas and more) who offer reservations through websites. Fully customizable form allow you to create your appointment fields to get any information you want to collect according your business for each appointment.
Features:
Fully Responsive Front-End Design
Intuitive and Powerful Admin Panel
Multipurpose booking (service booking, consultant booking, group booking all in one package)
Complete admin space having intuitive interface
Simple WordPress integration with shortcode
Independent Booking Calendars
Online Payment – Paypal, Stripe, Mollie, 2Checkout, Authorize.Net, Payson integrated
Payment with WooCommerce
Custom fields
Customizable Form and Calendar
Allow discount coupons
Each day calendar overview for all
Unlimited colors
Unlimited services, customers and employee
Personalized employers week schedule
Configurable schedules and days-off
Email Templates – Editable e-mail notifications
SMS Notification (Twilio SMS API Integrated)
Configurable e-mail and SMS reminders
Cart System (Book several appointments at once)
Loco Translate and WPML Compatible (POT File Included)
Customizable appearance settings
Edit Existing Bookings
Export of bookings to CSV
Multi-User Functionality
And many more features of WordPress appointment scheduling plugins are waiting for you.
You can try it for free? Get the free bookme pro plugin on WordPress.org to check out how it can be fit you for appointment booking or scheduling.
---
AppointFox WordPress appointment scheduling plugins is finally here, turning the entire process of scheduling your appointment 100% automated. Setting up your appointment system shouldn't be so hard.
Easy to use booking form, automated staff assignment and mobile friendly. AppointFox brings a new scheduling and hassle-free experience.
AppointFox is so much more than your ordinary WordPress appointment scheduling plugin and reservation system.
Features:
Simple user navigation with interactive visualization.
Process payments instantly and securely.
Fast and easy access through mobile devices and desktops.
Control your availability 24/7 with Advanced availability calendar.
Accept group bookings to manage your classroom, training or events appointments.
Adjust your booking website to your brand and customize all messages for notifications and reminders.
Sync the booking page with your Google Calendar.
Filterable, sortable and searchable appointment list that you can print or export to CSV.
Multi-language support – 12 languages included.
Multiple services and service categories.
Six months of 24/7 online customer support.
And many more
---

Appointment Booking Calendar is the best online calendar based WordPress appointment scheduling plugin for accepting online bookings or reservations from a set of available time-slots in a calendar. PayPal is integrated for accepting online payment.
This WordPress scheduling plugin can be used in to accept online bookings for medical consultation, classrooms, events, and transportation and alternative activities. Appointment Booking Calendar allows you to define the maximum number of bookings that can be accepted for each time-slot. A notification email is sent to specified mail addresses after completed the booking process.
Features:
Email notification send on appointment confirmation
Google calendar integrated
Includes captcha validation for preventing spam
For payment PayPal integrated
Multi-page calendar
Multiple time-slot selection
Pretty modern administration interface.
Translation ready
Many more.
---

vCita is a WordPress scheduling plugin offers a self-service scheduling system for 1-on-1 appointments, group events, and classes in the row of these WordPress appointment scheduling plugins. vCita booking plugin quickly integrates into any WordPress website. And perfectly fit your business. Wherever you are you can manage your schedule and calendar with the help of this plugin. This WordPress scheduling plugin allows you to automate confirmations of booking, send reminders to clients, receive mobile notifications for client requests and many more.
vCita is fully customizable appointment booking & online scheduling plugin and was designed for a service-oriented business in mind. A customer can pay from anywhere with PayPal, credit card for your online service.
vCita appointment booking and online scheduling is available in:
English
Spanish
French
Portuguese
Russian
German
Polish
Italian
Dutch
---

Ultimate WordPress appointment booking & scheduling plugin lets your customers schedule appointments directly on your website with an easy to use calendar and booking form. Easily set up services, locations and providers for those services without any coding knowledge, and let your clients start scheduling their appointment reservations online today! with this WordPress appointment scheduling plugin.
Ultimate Appointment Scheduling comes with several options that make it the most advanced and versatile online booking form solution for accepting reservations on your WordPress site.
Features:
Set a minimum and maximum number of days before an appointment to book a reservation for service
Set the time duration between appointments
When an appointment is booked the site admin and/or the service provider automatic send emails to the client
Set automated reminder as emails to clients a certain number of days or hours before their appointments
Require to confirm an appointment
Require login to WordPress, Front-End Only Users, Facebook or Twitter before being a to create an appointment, to prevent spam
---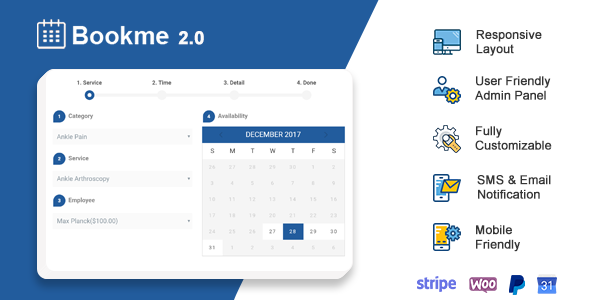 Bookme – is a responsive, multipurpose WordPress appointment booking and scheduling plugin. Bookme has lots of features like fully customizable and translatable , notifications, Google Calendar sync, payment with woocommerce, cart system, that allows your customers to check availability and make appointments for specific day(s) and time slots. This calendar booking plugin is a great easy-to-use and easy-to-manage booking tool for service providers who think about their customers. Bookme supports a wide range of services provided by business and individuals who offer reservations through websites. Set up any reservation quickly, pleasantly and easily with Bookme!
Features:
Fully Responsive Front-End Design
Intuitive and Powerful Admin Panel
Email Templates – Editable e-mail notifications
Payment With Woocommerce
Stripe Payment
SMS Notification (Twilio SMS API Integrated)
Google Calender
Loco Translate And WPML Compatible (POT File Included)
WordPress Timezone, Multiple Bookings
Cart System (Book several appointments at once)
Many more.
---

In the list of best WordPress appointment scheduling plugins easy appointments is an effective, full customizable, user-friendly WordPress scheduling plugin, for easily integrate into any WordPress website and manage online reservations with ease. Easy appointments scheduling plugin come with many features like multiple locations, services, workers, and time slots. Email notification to your customer and employee on creation and update of appointment. Create your own form fields with custom field feature. Support Multi-language, easy to translate in your native language.
This WordPress appointment scheduling plugin can be used for: Lawyers, Medical consultant, Salons, Mechanic, Cleaning services, Doctors, Spas, Personal trainers, Institute, Escape rooms, etc.
Features:
Multiple Locations
Multiple Services
Multiple Workers
Extremely flexible time table
Email notifications
Create time slots by connecting location – service – worker and date/time
Single Column and Two Column Responsive Bootstrap layout
Custom form fields
Many more.
---

Appointment Booking Scheduler WordPress appointment scheduling plugin provides you an online booking and appointments management system on your WordPress website. This WordPress scheduling plugin provides plenty of options and setting to manage booking or reservation online. It can be easily installed by any beginner as it is easy to understand and manage.
Features:
Accept online appointment on your website
Appointments management dashboard
Calendar View for Admin with Appointment Status Filter like Pending / Approve / Cancel / Completed
Set business booking hours
Paid & Free booking
Customize frontend booking appearance
Backup services and customers
Email notification setting
Turn off Weekends using holiday feature
Many more
---

Appointment Hour Booking is a WordPress Scheduling plugin for creating and managing a booking calendar for appointments with a start time and defined duration over a schedule. What is a duration/schedule described in the "service" selected by the customer? Multiple services of different time duration and prices can be created in a calendar.
It is a type of multidimensional plugin that is proficient in playing its role in many fields like booking of medical services, for personal training sessions, for booking rooms for events, for reserving language classes or other types of classes and other types of services/resources.
Features:
Easy visual configuration of calendar data and schedules
Working dates, invalid/holiday dates and special dates can be defined
Supports restriction of default, maximum and minimimum dates
Open hours can be defined for each date
Each calendar can have multiple services defined
Each service can have its own price and duration
Start-times are calculated automatically based in the open hours and service duration
Available times are managed automatically to avoid double-booking
Multiple services can be selected on each booking
Services can have multiple capacity
Automatic price calculation
Many more